We also offer:
BOATS IN STEEL, WOOD-EPOXY, ALUMINIUM
BOAT FITTINGS IN BRASS, BRONZE MADE TO YOUR DESIGN SPECS
52' FISHING TRAWLERS - TRAWLER YACHTS - WORKBOATS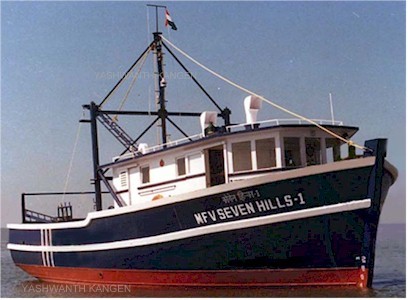 Mahasagar's 52' Combination/Outrigger Trawler of 16-20 day fishing voyage capability is a hull which is well-proven in sea conditions as treacherous as those in the Bay of Bengal. This could not be better acknowledged than by the fact that over twenty of these boats have been built and supplied. Some of these boats are now over 15 years old and in excellent working condition.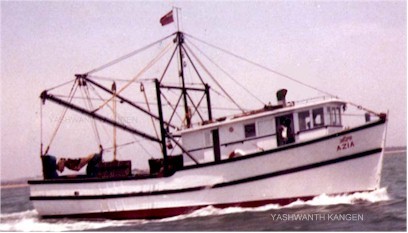 Basic Specifications: Length: 52', Beam: 17', Displacement: 34 m.tons(empty), 58 m.tons(fully loaded), Fuel oil cap: 12 KL, Freshwater cap: 5 KL, Fishhold: 25 Cu.Mt PU-Foam insulated & FRP lined, Winch: Triple drum mechanical/hydraulic drive, Crew accommodation for eight, Electronic equipment include echo-sounder, VHF radio-telephone and GPS, Engine: 175-250hp marine diesel (or owner's choice)
Construction: Carvel-planked wooden hull of mainly wildjack wood (artocarpus hirsuta) with copper, brass and SS fastenings; 4"x4" sawn frames; Cabin structure: marine plywood over wooden frames; hull exterior lined with 2 layers FRP upto deck fender level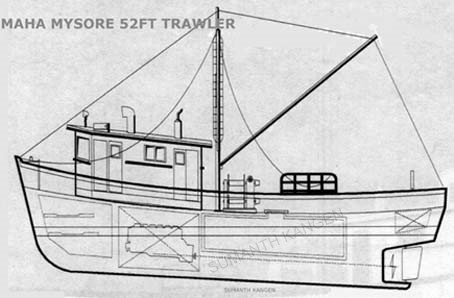 Besides stern and outrigger trawling, this hull can be adapted to working other methods of fishing. This solidly built, sea-kindly hull can be supplied in bare hull+deck form for fitting-out as workboat or trawler yacht.
Click here to see more pictures of the 52' Fishing Trawlers