We also offer:
BOATS IN STEEL, WOOD-EPOXY, ALUMINIUM
BOAT FITTINGS IN BRASS, BRONZE MADE TO YOUR DESIGN SPECS
PASSENGER LAUNCH - MOORING LAUNCH - FISHING LAUNCH
More than twenty Mahasagar 30-ft launches and over forty-two Mahasagar 25-ft launches perform the lifeline tasks of transferring people and supplies between islands and between ship and shore as well as catching prized tuna fish under most of the weather conditions prevailing in the seas around the Lakshadweep Islands.
30-FT LAUNCH

Length: 9.2 mt / 30' Beam: 2.8 mt / 9'-3" Depth: 1.2 mt / 4' Engine: 40-50hp marine diesel
---
25-FT LAUNCH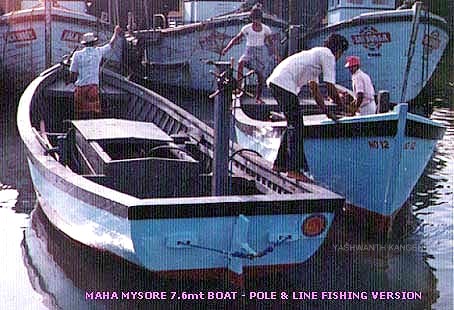 Length: 7.6 mt / 25' Beam : 2.1 mt / 7' Depth: 1 mt / 3'-3" Engine: 16 to 20hp inboard marine diesel
Construction: Both the boats are wooden hulls of mainly wildjack wood (artocarpus hirsuta) carvel-planked on bent/sawn frames with copper, brass and stainless steel fastenings. Hull exterior is lined with 2 layers of fibreglass reinforced plastic.