We also offer:
BOATS IN STEEL, WOOD-EPOXY, ALUMINIUM
BOAT FITTINGS IN BRASS, BRONZE MADE TO YOUR DESIGN SPECS
SUPPLY BOAT - WORKBOAT - TUGBOAT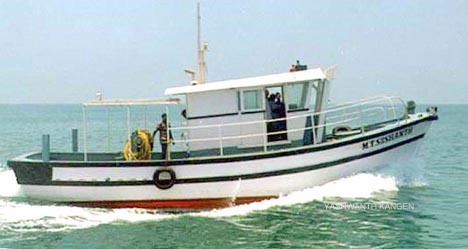 Mahasagar's 12mt/14mt Twin Screw Tug-cum-Supply Boats are originally developed for the Lakshadweep Islands Administration who use them for a variety of purposes that include ship-to-shore transfer, inter-island passenger ferry/supplyboat, water-barge towing, searching at sea for boats reported missing etc. They are popular with their operators for their reliability and simplicity of maintenance. These strong and stable seacrafts can be outfitted for applications such as trawler yacht or cruise boat.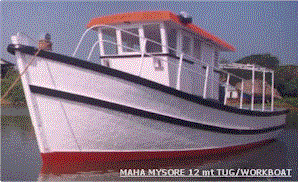 Basic Specifications
Length: 12mt/14mt, Beam: 4.2mt Draft: 1.8mt, Displacement: 18m.tons/24m.tons (fully loaded) Construction: Carvel-planked wooden hull with copper, brass and SS fasterings; 3"x3" sawn frames; Cabin structure: marine plywood over wooden frames. 2 layers of FRP up to deck fender height, optional. The Lakshadweep boats are installed with 2x110hp marine diesels.