We also offer:
BOATS IN STEEL, WOOD-EPOXY, ALUMINIUM
BOAT FITTINGS IN BRASS, BRONZE MADE TO YOUR DESIGN SPECS
WORKBOAT / PERSONNEL TRANSPORTER
If you are looking for a sturdily-built sea-kindly boat for use as a personnel transporter, tourist launch, fishing boat, harbour craft or multi-purpose workboat, then this is the boat for you.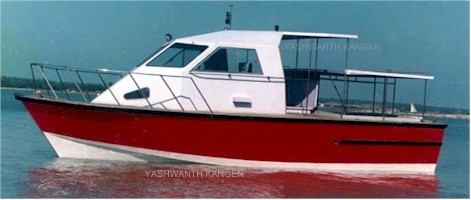 The Mahasagar workboat can be semi-custom built to meet your own operational requirements and completed to any stage of construction. A general duty workboat version is shown above and a 20-25 seater personnel transporter version is depicted below.
The boat can be optimized for inboard engine with shaft drive, stern-drive or jet drive; for outboard motor; for single or twin engines - depending upon the customers requirements. Installed power may range from 60 hp to 450 hp corresponding to a speed range of 7 knots to 20+ knots.

Standard specifications:
LOA: 30'/34'/36' (9.2mt/10.3mt/11mt) Beam: 11' (3.4mt)
Construction: Single skin moulded FRP (fiberglass reinforced polyester) hull. Hull laminate thickness at keel: 21 oz; bilges: 17 oz; topsides: 13 oz. Rigid polyurethane foam cored FRP transverse and longitudinal frames, floors, engine beds. Structural bulkheads of marine plywood bonded to hull with FRP. Deck of marine plywood cored 10 oz FRP sandwich integrally bonded to hull. Wheelhouse/passenger cabin of marine plywood cored FRP integrally bonded to deck. SS rubbing strip on stem extended downward and aft under the length of the keel. Wooden fenders provided all round. FRP rudder tubes and sterntubes provided installed where required.