We also offer:
BOATS IN STEEL, WOOD-EPOXY, ALUMINIUM
BOAT FITTINGS IN BRASS, BRONZE MADE TO YOUR DESIGN SPECS
41' TRAWLER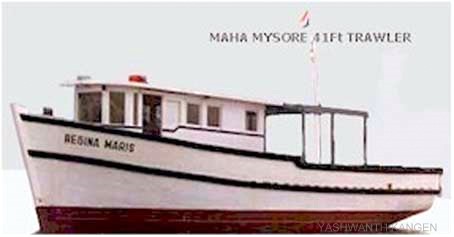 The Mahasagar 41 Stern Trawler of 15-day voyage endurance is the outcome of innovative engineering combined with decades of experience with boats. Provided with a fuel capacity of 5 KL, freshwater capacity of 3 KL, fishhold volume of 10 Cu.Mt and powered by a marine diesel of only 100 bhp, this boat efficiently and at lower cost performs tasks usually performed by much larger boats. Built to a high standard of construction, this strong, low-maintenance fibreglass-lined hull has excellent sea-keeping qualities under all working conditions.
| | |
| --- | --- |
| Length OA | 41-00" / 12.50 mt |
| Beam | 13-8" / 4.20 mt |
| Draft | 6-6" / 2.0 mt |
| Propulsion | 100-120 bhp (or owner's decision) Marine Diesel |
| Construction | Carvel-planked wooden hull of mainly wild-jack wood (artocarpus hirsuta) with copper, brass and stainless steel fastenings throughout. |
| Speed Free Running | 7-9 knots |
| Fuel Oil Tanks | Upto 5 KL, FRP |
| Fresh Water Tanks | Upto 3 KL, FRP |
| Fish Hold | 10 Cu.M Volume, Rigid Foam Insulated and FRP lined |
| Catch Preservation | Ice / Refrigeration |
| Endurance | 15 days |
| Crew Complement | 6 |
| Hull Bottom Protection | FRP lining / Copper or Aluminium Sheathing |
| Winch | Palghar Twin Drum, Mechanical Drive |